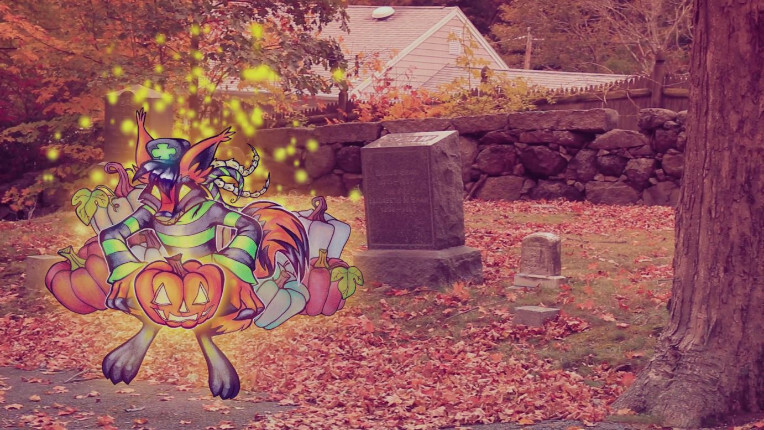 So, something pretty devastating went down. I pushed to get my Film "Succor Forlorn" done, and many updates for Windows 10 & Adobe's many updates screwed up my computer frequently this year. But the Windows 10 Update in October was DEVASTATING to my computer, and many of my drives, and drive-reading ability was screwed. I had pushed through the Edits to my TV Show that I was producing at WCA9 TV in Weymouth Mass, and I managed to get the first 2 episodes rendered out, then planned on letting my computer rest for about 2 days, then planned to spend the entire October AFTER THAT which was about October 2nd, just editing my footage I, and my local friend, Roland, shot all over New England since last year. I also had several ANIMATED works as well.
But, the morning I planned to start my editing binge, Windows 10 made a VERY AGGRESSIVE UPDATE WITHOUT MY CONSENT, which caused my computer to not be able to read the drive with my B-Roll, my content, and ALL of my work. It also prevented my computer from reading my back-up external drive, and its gotten worse since that. It was incredibly devastating to me, and I felt like my engine just stopped working. I kept hoping it might start working. It might be the processor. I have no idea. I also keep having vicious hacking problems.
My computer is SO SLOW that doing ANYTHING AT ALL like trying to look at a photo, or load a web browser can take a long time before I can get it to do ANYTHING. So, even just using Adobe After Effects CC is a SLOW tedious matter. Also, people have not been very nice to me online about anything animated or creative since September. It's funny how so many strangers are so quick to judge, and pass judgement upon me, and never bother to get to know me, talk to me, or have no care whatsoever about me as a person, let alone as an artist. And, they seem quite self satisfied in their ignorance, preconceived ideas, and conclusion-jumping.
I think also part of the negativity I have been getting from people is due to there being no audio. Audio can greatly change & effect/affect how a video piece feels. (An example of this is the 3 versions of my "Mighty Huntress" Films which have different audio, and different editing.) I omitted the audio because I was unclear about the legality of copyright laws, and I didn't want to break any laws, even if its fan art, or memes.
I personally know the artist Pasteloween, and interact with this artist daily. (We are blood relatives.) She had created some marker drawings in her sketchbook and we are both TECHNO FANS, and we also like FURRIES and ANTHRO Art. We're not wierdoes that do perverted things, despite the stigma of Furries. We just like Anthro Animals, Cartoons, and we are at heart #Raver4Ever. As much as we can be very different, we also have many similar interests in THE ARTS such as music, Visual Arts, Media, and Cultural things. Anyways, when I saw her drawings I thought it would be fun to make some Motion Graphics Puppet Animations using Camera Tracking in After Effects, so I went with my friend Roland to Negus Park, which is near my house, and he was trying to learn how to use the recently purchased DSLR camera he bought used online.
The Drawings she made were of NegaRen which is a unique Artist whom makes a lot of Techno & Electronic music in a variety of Styles which we are also fans of. We are all HUGE fans of '90s techno, Hi-NRG Eurodance, Free Style Techno, Tribal Techno, Happy Hardcore, House, 303 Acid, as well as various music from Y2K, and the 2000s like Bounce House, Jump Style, Hard Style, Garage House/Music, Dub, and even Trance Techno. Not just the typical 4/4 beats, but even the 2-Step ones, I'm not as big of a fan of Drum N Bass myslf, but I listen to a few odd tracks from back in the day. Both of us are sort of nerd-ish consumers of all content from those periods, and even today replicating those styles, and we can seriously talk some of the lingo for hours, like modulating transistors like the 303, 808, Korg Kaos, Pioneer, Chicago, Detroit, Piano Riffs, Synth Pop, audio design... and that's just the bits we currently know, but we don't even know it all.... and are always learning more, and digging up lost or forgotten media from the time period. Techno & Electronic music was suppressed a lot in my country (USA) so I have always been scouring the internet to find those things which I love. It is only NOW that Electronic music has become more widely accepted due to the internet. We are also open minded to listen to music in ANY LANGUAGE, and not just English. We also both speak multiple languages moderately and consume media in their original languages. I personally don't like English dubbed media, but prefer subtitles.
So, I thought it might be interesting to make a fan art animated video of some simple footage. It's sort of like a pun in a way...NegaRen in Negus Park. Negus Park is a small park in my town not too far from my house, but still a long walk, which has a memorial to a young boy whom passed away at the age of 13. (I hope, in the future, to turn all of those things in that park int a PokeStop in Pokemon Go.) I was hoping to have it all finished within 1-7 days... but, it took way too long. I put it off for all of September, and when my computer stopped working I had to pull the B-Roll footage from my SD Cards. I also shot footage in a local New England Colonial Cemetery.
It was excruciating to get ANYTHING to happen in After Effects AT ALL!
I had ALSO wanted to finish my #Inktober Butterflies Projects... and THAT was ALL ON MY DRIVE. The drive seems invisible on my computer, but sometimes the system can read that there's a FAN on it if I run SpeedFan. But, even that doesn't work right. By this point, many of the other local hard drives have also gone invisible... so I need to have my computer dropped off for repairs this week.
I went to the TV Station, today, which also SHOULD HAVE BEEN DONE LAST MONTH, but even they had issues, and miscommunications as well. Damned if you do, damned if you don't.
The Recent Episode We FINALLY FINISHED TODAY:
My Show "As Spirit To Be Free" still hasn;t aired on TV yet, but we FINALLY got the 1st 2 episodes SUBMITTED to the Station.
Intro Graphics:
I'm NOT LAZY... I work so HARD to get stuff done, that I'm often exhausted.... and it feels like I often have NOTHING TO SHOW FOR IT... I also had to part ways with a company I was contracted to do video work for due to abuse, and I also had surgery in September which was SO SCARY. But, it went well, and I'm OK. But, I legally wan;t allowed to work ALL OF OCTOBER by order of my surgeon. I only have 1 ovary, and I was so worried I would loose it due to 2 giant Cysts on it that were larger than softballs. I was terrified of being castrated and loosing my last ovary, because then I would no longer be a woman, but a eunuch. It's the equivalent of a man loosing his testicles. I would NEVER be able to to various things, and I also had a pre pre-cancer Polyp in my uterus that caused me to bleed excessively, and I got anemic from in. All of these things are connected to the endocrine system, so I worried about going directly into osteoporosis, and menopause, then dying too early. I just turned 40. I also can't take birth control hormones n steroids because they make me maddeningly suicidal. AND IT IS SO SCARY. The hormones also cause cancer. The world we live in is terrible frequently, but I still want to cling onto the rest of the time I have left in this misbegotten life, still.... even if it's kind of the end of the world anyway.
I did mange to make some clips of the NegaRen animated stuff... I need to edit it, but I constantly have setbacks, and things popping up, like every day... and whien I finally have a free day... I'm tired, and I rest.
I wish I had the umph I had when I was 18.... but, I'm 40.
i hope my computer can be fixed....
I might have to eventually get a new computer, but I need the data on this one. I can;t even get to my back-up data either. *long reluctant sigh*
But, my brother suggested that I get an Apple Mac Pro. That's a nice idea. I also need a Cintiq. But, I NEED the stuff on these local drives.
I seem to go through this cycle EVERY YEAR.
Anyways, due to my computer troubles being so sudden, and abrupt, it stunned me, and stalled me, that I didn't know how to process it... I was on a trajectory of goals, and plans, and when I couldn;t do anything, I was stunned. I didn;t know what to do with myself. I just couldn't even process it.
So, I still have no idea what to do with myself, until/unless my computer gets fixed. It just took all the winds out of my sails, and I lost ALL of my enthusiasm for the Fall/Autumn, and even Halloween. It was like my art dropped dead. It was similar to how my medical problems screwed my summer plans, and my spring plans.
So, I've been contemplating my situation...
I don;t know what I will be doing at all. The Future is totally blind to me.